A strong return for Sarasota tennis star
YourObserver - Ryan Kohn - July 5, 2018
After a year spent training, the former top-ranked player is looking to reclaim her throne.
It was a normal May tennis practice at Twin Lakes Park for Nikki Yanez until a father and daughter approached her.
They introduced themselves and said the daughter, Alexandra, had written a school paper on Yanez and what an inspiration she was, Yanez said. Yanez was taken aback, but honored. It's not every day that a stranger thinks of you as a role model.
Especially when you're 14 years old yourself.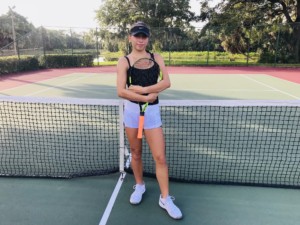 Yanez has been playing tennis since she was 8. She did gymnastics before that, and was a state champion, but envied her brothers who played tennis and were getting trophies and playing tournaments more frequently than her. In her father Paul Yanez's eyes, tennis also offered a safer experience, with less injury risk than gymnastics. She has yet to suffer a serious injury on the court, he said.
Yanez still primarily trains like a gymnast. She only does about two hours of on-court tennis practice a day, spending up to six hours working on her conditioning. In lieu of attending a tennis academy, her family is her main support, with a few different private coaches helping out with specific aspects of her game. A trip to France to play in the Longines Future Tennis Aces tournament in 2016 let her see how the pros, playing simultaneously at the French Open, train, and she's taken that experience with her.
From the beginning, Yanez was a star. It was her gymnastics background that helped her the most, giving her perfect balance and tons of lower body strength. Once she learned to hit the ball, which took about a month, it was a wrap. Yanez loved the singular responsibility tennis put on her.
"It's all about you on the court," Yanez said. "It's your strengths, and you have to keep it up."
Yanez shot up the age rankings, eventually landing at No. 1 in the United States Tennis Association at age 11 — not in Florida, but the entire country. She held that position for a while but has fallen from the top spot over the last year and change, as she's focused not on playing tournaments (the biggest factor in rankings) but refining her game in practice, and making sure she's prepared for the future. She currently sits at 29 on Babolat's national recruiting rankings and 247 on the USTA Girls 14 list.
Her return to major junior tournaments came last month, when she reached the finals of the USTA Bobby Curtis Junior Sectional Championships in Orlando. Yanez called the tournament a "great experience" for her first showcase singles event in about a year. She's next preparing for the National Clay Court Championships in Plantation starting July 15, and the National Championships (hard court) in Rome, Ga., starting Aug. 4. Her goal now is to reclaim her No. 1 ranking, something that might have caused stress in the past.
"When it (her rise in rankings) was first happening, I did feel pressure," Yanez said. "My dad would say, 'You're the No. 1. Act like it and play like it, because you are.' I think that got to me a little bit. I got nervous. But now I'm alright, I'm used to it."
What makes Yanez so tough, Paul Yanez said, is that she plays a "male game." Her forehand shot spins like a top, and her returns have a heaviness to them that her opponents aren't used to seeing. That power, plus her gymnastics footwork, makes her a unique challenge, one she embraces. When asked what player she emulates, Nikki says perhaps the obvious answer — Serena Williams — but not before her actual favorite player, Rafael Nadal.
"Girls hate playing her," Paul said, "but for her, it's natural. She can hit normal or hit heavy and deep. She's got a well-rounded game right now."
Paul added that Nikki has been developing a Serena-esque serve, one so devastating that she aced one of her coaches, Denys Maasdorp, three times in a row in a recent singles match.
In preparation for her upcoming majors, Yanez played in May's USTA $25,000 Women's Professional Tennis Tournament at The Oaks Club in Osprey. Alexandra, the young essayist Yanez had met at Twin Lakes Park, was there every day of the event to cheer for her.
Being nationally known comes with its own set of challenges. When Yanez met Alexandra, she was wearing old workout clothes. In the future, she wants to always look professional and present positive body language, she said, because you never know who you're going to meet.
She doesn't want to disappoint anybody, and If Yanez reaches her potential, having fans will become the norm.
VIEW ARTICLE